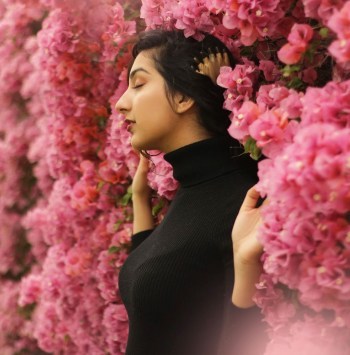 Adimay | ADIMAY.com
1 // How is 'ADIMAY' blog, 'Turning Heads' for all the right reasons?
My blog, ADIMAY.com, serves to explores the intersection between artistic expression and social action. Having so many interests, from fashion, feminism, politics, to sustainability, my blog serves as the creative platform where all things come together in a seamless manner.
The site began with the simple goal of creating. With time, that goal became creating consciously.
With that said, I'd say the reason I continue ADIMAY.com is because it forces intentionality from my work as an artist and activist.
2 // What do you think is interesting about the change to conscious consumerism and environmental shift that is happening now?
Conscious consumerism can no longer be viewed squarely within the hippie or tree hugger domain as it did for so long. The implications of consuming consciously intersect with social justice: through sustainable business models, we're revamping structures that have exploited women and children, tied black and brown bodies to their labor in the name of profit and greed, and have continued to create dichotomies between the Global South and Global North.
In a world that's increasingly political, conscious consumerism is growing for all the right reasons.
3 // What inspired you to move in this direction?
Before I was a blogger, I was a photographer. Around the time I decided to start my blog on a whim (it was one late night and I thought it would be a good place to showcase my photography), I became increasingly involved within the activist sphere around women's empowerment.
The more I learned about the exploitation of women, the more I saw the ties to the fast fashion industry, given that the labor in this sector is inherently gendered; 80% of garment workers are female. ADIMAY became the platform in which I used my skills as a visual storyteller to encapsulate stories of sustainability and social politics in fashion.
I fell in love with the sustainable fashion movement for its ethics, aesthetics, and unbridled innovation, and ADIMAY has reflected just that!
4 // Where is your favorite place to shop ethically in your city?
My favorite place to shop ethically in my city would have to be local thrift stores. Before I was even aware of sustainability in fashion, I loved thrifting— of course there is the low price point, but there is something undeniably avant-garde about the pieces you find, and the process of upcycling clothing is a true testament to conscious creativity.
5 // If you had to choose one book to take on a journey, what would it be?
My latest reads have been a series of Angela Davis books, so probably Freedom Is a Constant Struggle: Ferguson, Palestine, and the Foundations of a Movement.
6 // Have you had a recent piece of great advice?
I spent the last three months as a California transplant living in Detroit, and the late life long Detroiter/activist Grace Lee Boggs became a big influence:
"We are beginning to understand that the world is always being made fresh and never finished; that activism can be the journey rather than the arrival; that's struggle doesn't always have to be confrontational but can take the form of reaching out to find common ground with the many others in our society who are also seeking ways out from alienation, isolation, privatization, and dehumanization by corporate globalization."
— Grace Lee Boggs, The Next American Revolution: Sustainable Activism for the Twenty-First Century
7 // Current favorite color?
I've been a sucker for gold!
8 // Lastly, do you have a favorite S A Y A Hairpin? //
I adore the bold silhouette of the moonflower. It transcends just utility, and truly looks like a work of art in one's hair.