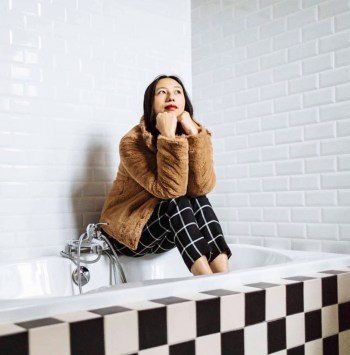 Irma | (Re) Fashion Gallery
1 // Tell us a little about your blog '(Re) Fashion Gallery'
I created my blog Refashion Gallery when I had a project to create a company with a refashioning project. Over time, this project has evolved but I've kept Refashion Gallery. It became my personal blog where I share my lifestyle and travel addresses, as well as some brands that I love.
2 // What do you think is interesting about the shift to conscious consumerism that is happening now?
It's great! Every dollar or every euro spent is a vote towards the brand that you're supporting. Being conscious means being aware that you can make a difference.
3 // What inspired you to move in this direction?
We only have one planet and one mother earth. Conscious consumerism is not a trend, it's a necessity.
4 // Where is your favorite place to shop ethically in your city?
I love going to luxury consignment shops. Paris has a lot of them and it's the best place to get your rare and exquisite designer items. Two addresses I go regularly: J'y Troque, 7 rue Villedo in the 1st arrondissement and Le Troc de Montorgueil in the 2nd arrondissement.
5 // If you had to choose one book to take on a journey, what would it be?
Love, Style, Life from Garance Doré. It's very well written and I can relate to many things that she wrote.
6 // Have you had a recent piece of great advice?
Be honest with yourself and dare to live your dream.
7 // Favourite color right now?
Red!
8 // Lastly, do you have a favorite S A Y A Hairpin?
The Banana Leaf! It's perfect for my fine hair.