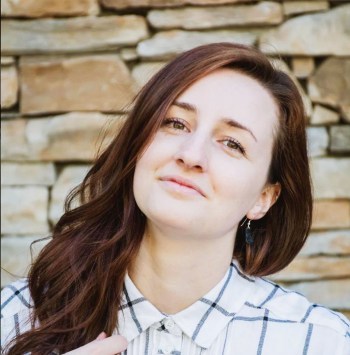 April | The Honest Root
1 // Tell us a little about your blog 'The Honest Root'
This blog started as a way for me to share my journey to buying only products that I deemed "ethical" – whether that was Fair Trade items, eco-friendly items, slow fashion, etc. I originally just wanted to share my finds and small triumphs (and failures) with my aunts, sisters and friends who were interested in a more conscious lifestyle.
However, I have always loved writing and quickly realized that lots of people were hungry for this type of information, so I decided to try to grow the blog into an online space for people to learn, enjoy some pretty photos, and demystify the whole ethical/conscious/sustainable living movement. I wanted to make the ideas and products easy, appealing and accessible. This also eventually lead to me focusing on the word "sustainable" instead of "ethical" because I feel that "sustainable living" is less scary to hear for the first time.
Now I regularly review products and share my thoughts on things like fashion, coffee, minimalism, home goods, and even just finding joy in nature and learning to cherish the things we already have around us.
2 // What do you think is interesting about the shift to conscious consumerism that is happening now?
I think it's certainly becoming a trend – which is fantastic because hopefully more people will become genuinely interested in conscious/sustainable living and begin to care about where their belongings come from, and end up at the end of their life.
I think, too, that with conscious consumption becoming more "mainstream," products are becoming more and more accessible, in terms of availability, affordability, and aesthetics. When I first started this journey to more sustainable, conscious living several years ago, I struggled trying to find items that fit my style, taste, budget, etc. Now it's becoming slightly easier with time. More consignment shops with curated collections are popping up, eco-friendly and fair trade items are available at mainstream grocers, and a lot of eco, fair products are being created in really accessible ways.
However, as with everything that becomes a trend, there will be those bigger companies looking to capitalize on the movement without authentically participating. Green-washing is one such example. This is where I think education and staying curious about what we consume is so important. For example, I regularly go to websites like EWG to "check up" on brands I use, to see if they are maintaining standards that I'm comfortable with.
3 // What inspired you to move in this direction?
A lot of things, but mainly through volunteer work abroad and at home, I realized that so many of the problems in the world stem from poverty. And it's not that people aren't working, it's that in a lot of places, people work very hard but are not properly compensated for their efforts and skill. This got me really interested in Fair Trade products, which lead to being interested in eco-friendly products, which lead to being interested in slow fashion, which lead to my pursuit of overall sustainability, and so on.
4 // Where is your favourite place to shop ethically in your city?
I just really love vintage and consignment shopping. So many of my favourite fashion pieces come from vintage and consignment stores. Main Street in Vancouver has some great consignment shops.
5 // If you had to choose one book to take on a journey, what would it be?
One of the Miss Peregrine's Home for Peculiar Children books, or maybe I'd sneak the whole trilogy in my suitcase. I love the fantastical world woven by Ransom Riggs where almost anything is possible, yet there is this constant impending gloom. In a strange way, I think this aptly represents my inner soundtrack – acknowledging the horribleness of the world, but desiring to fight to protect the beauty and wonder that exists as well.
6 // Have you had a recent piece of great advice?
Yes. "Know your limits, and know your worth."
I tend to overthink things and often get caught up believing that since every single part of my life isn't always perfectly sustainable, I shouldn't be a sustainable living advocate.
But you know what? That's ok. It's ok that I'm human and I fail sometimes. Example: I hate composting so much. I think I'll always struggle with being consistent on that one!
I've tried to be honest about my failures and difficulties on my blog. I want people to know that making such a big change in life takes time, a support group, lots of failure, and lots of patience and kindness with yourself.
7 // Favourite colour right now?
Well, since white isn't a colour, I'll have to go with millennial pink and forest green. I think the combination of those three can create such a whimsical feeling.
8 // Lastly, do you have a favorite S A Y A Hairpin? //
The Soka Bud right now – so easy to use, so pretty with the split end! I wear it around my house all the time with a low bun, because that's much easier and way more cute than the frayed top knot I used to sport on the daily, haha!