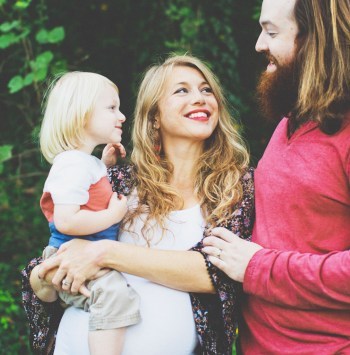 Amanda | www.valuemindedmama.com
1 // Tell us a little about your blog 'Value Minded Mama'
My blog Value Minded Mama focuses on affordable fashion and living. I am a mom, so a lot of my products are either mom or child related. It all came about from my adventures thrift shopping. I love fashion and to shop, but on one income it can get expensive quickly. So, I try to find ways around spending money frivolously, especially on things that I don't think are worth what the price tag says. Thrift shopping was my way of showcasing that you can still look stylish and fashionable from thrift clothes, and they won't hurt your budget. I think there are some things that are worth the money, and somethings that are not. That's what my blog highlights, what is valuable to me and the reasoning behind why it's valuable.
2 // What do you think is interesting about the shift to conscious consumerism that is happening now?
First of all, I think it's interesting that there is even a shift at all for sustainability. My desire for thrift shopping came from a need to work within my budget and still satisfy my passion. But some people are already very passionate about the environment/fair trade and have chosen to change their lifestyle because of that reason. So, I think the most interesting thing about conscious consumerism is that it can affect different people, for different reasons. It's not cut and dry. Everyone can be a conscious consumer, in any capacity.
3 // What inspired you to move in this direction?
I love thrift shopping and repurposing old things (furniture/home goods). And after working in an office where there is so much paper and waste, I became very serious about recycling in my own home. I also have a friend whose life is sustainable living and she's helped me see the light on sustainable practices. I definitely cannot implement them to quite that extent in my everyday life, but I am more conscious than I have been in the past. It's a learning and growing process.
4 // Where is your favorite place to shop ethically in your city?
Thrift stores! I love repurposing old furniture and shopping for clothes at local thrift stores. I try not to shop chain thrift stores because they usually aren't very ethical in their corporate enterprises. The local shops help local people and organizations.
5 // If you had to choose one book to take on a journey, what would it be?
Harry Potter! I love J. K. Rowling's imagination and those books are so good.
6 // Have you had a recent piece of great advice?
Don't let the fear of failure keep you from going for your dreams. You are your greatest obstacle.
7 // Favourite color right now? Garnet
8 // Lastly, do you have a favorite S A Y A Hairpin? The Moonflower is amazing! So creative & beautiful.