Hair Oils
Our hair oils are handmade in small batches in the U.K and made with 100% certified natural and organic ingredients. They have been devised to deeply nourish and moisturise a variety of hair types and skin.
For daily use in the morning or evening. Rub your hair oil into the palms of your hands, massage gently into the tips of dry or damp hair and rub the excess into hands, nails and skin. Use therapeutically, inhale and breathe deeply.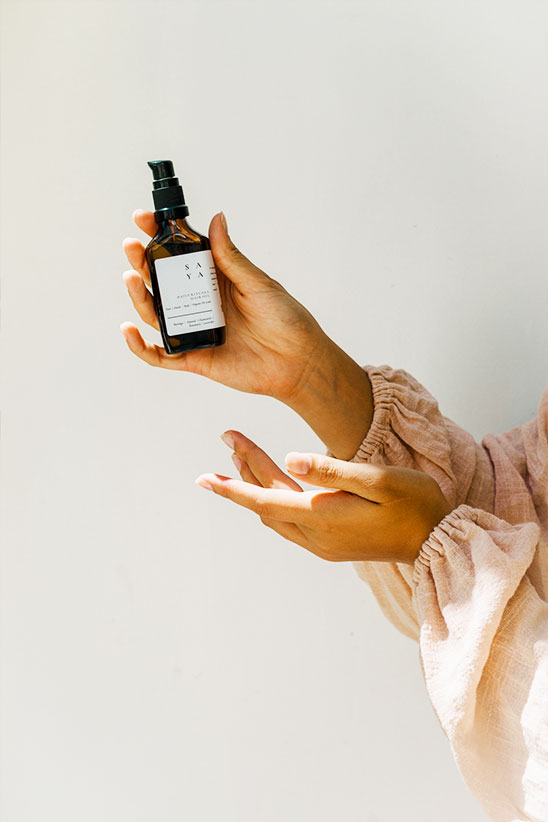 For finer hair types we recommend to use between 2 - 3 drops of The Soothing Scalp Oil or Clarifying Hair Oil. Oily hair is generally a little finer in texture and isn't able to absorb heavy products like other hair types would. So our Clarifying Oil is made with a very light grapeseed oil as the base. The Soothing Scalp Oil is devised for those with sensitive skin types, as it is made using a 1% blend instead of 3% and is packed with Omega 3 and Vitamin E.
For thicker, dry or damaged hair types that need more nourishment we advise to use 3 - 5 drops of the Daily Rituals Hair Oil or The Nourishing Hair Oil. The Daily Rituals Oil is made up of oils such as, Moringa, Almond, Chamomile, Rosemary and Lavender. These all have healing properties, especially the Chamomile and Moringa oil which are great for strengthening brittle hair from within, leaving behind soft and strong tresses. The Nourishing Hair Oil is brilliant for dry and thicker hair types that need moisture, as its Argan base provides deep nourishment.
Understanding your hair type will make your life a lot easier when it comes to styling and caring for your hair. See our blog here on 'Identifying your hair type. Which S A Y A Hair Oil is best for you? here.
Customer Reviews
"The Pala hair sticks are probably good for a variety of hair types but I want to underline that particular for long straight and sleek hair these pins are amazing.
I often have the problem that there is not enough grip in my hair structure and that can make it difficult for hair pins to stay in securely. The Palas have these edges in the middle which makes them lock into the hair and into each other. No other hairpins have ever felt this secure with my hair! " - Mo

"I love the design! The comb lies in the hand perfectly and has just the right distance between its teeth to comb nicely. With other brushes or combs my hair often fluffs electrostatically but with the Kamboja comb this is not an issue. It also feels very robust and I have no doubt it will stay with me for a long time " - Mo

"Wonderful brush. Light, doesn't tear my hair, feels good in my hand and is easy to clean. Love it!" - Brush

"Great brush, very light. Leaves my hair super soft" - Ketzalli

"The product is beautifully smooth and the delivery was equally smooth. Saya Designs is thoughtful and attentive from a product/customer standpoint! Thank you!" - Curtis

"The boar brush was exactly the size I anticipated.
It's a good little brush . Arrived quickly .
Would recommend ." - Julie

"I want to share that my taro fell and split length wise, and two of my Barrette tips broke because I dropped them. So first all, be very careful not to drop it! But also, I have super glued both of them, and I have had no problem using them at all! As good as new!" - Queeny

"Great for holding long hair in a bun. It took a lot of time to learn to use it, it isn't as easy to keep in place as the other sticks, at least for me." - Queeny

"I have (had) hair to my butt and the taro worked well, but this one worked AMAZING. my hair was in a solid place for hours." - Queeny

"I owned the taro and tapioca first and I have really thick hair. The first time I tried the soka, I used the same technique to put it in my hair, which was a VERY BAD idea because it immediately snapped. I try to weave the stick through my hair in a tight bun and this stick did not handle it. Don't get me wrong, this is not a complaint and I own like 5 products from saya - but this was not the right stick for my hair or technique, and advise to treat with more care than with thicker sticks, especially that it is long and thin." - Queeny

"Work perfectly for a half-up bun in my very long, thick and wavy hair. Beautiful design and quality." - J

"Great hair fork. I have a really hard time finding just a fork like this, without some giant design to make it heavy and unevenly weighted. This one is beautiful and simple. I love the color of the wood." - ToBeSilent

"This is a nice brush but too soft for my hair and I think there are too many bristles, too close together. It has the effect of smoothing the top of my hair, but won't go right down to the scalp - and I have thinning hair, so I'd had high hopes for it that weren't quite met." - Valerie

"The brush is such a beautifully made piece and very pleasant to use. I am very happy with it. :)" - msrta

"Beautiful and functional, lovely eco packaging and quick to dispatch, thank you" - K

"Beautiful and functional, lovely eco packaging and quick to dispatch, thank you" - K

"The brush was a gift. It arrived beautifully wrapped, with the gift-note I requested. The brush is well crafted and the bristles are the perfect firmness, just as described. It met my expectation and was absolutely worth the wait. A perfect quality gift." - Catherine

"Very good quality! Would totally recommend" - Annelies

"Beautiful hair brush" - Carla Snobelen

"These mini pandan hair sticks made a beautiful gift for a friend!" - Sandra

"Beautiful and unique. I love purchases that support a good cause as well. Thank you" - poofyhair990

"Such an amazing brush for my long, thick hair, and worth the investment. It glides smoothly and I've noticed a drastic difference my hair." - Ada

"my hair has never been healthier! I've been using this brush for about ten days, and I can already see the difference. My hair has a decreased amount of breakages and the oil in my hair has been more spread throughout. I love this brush and am so thankful for it!" - Rachelle

"The hair fork is beautiful and holds my long and thick hair in place. Excellent service and lovely plastic-free packaging. Highly recommended." - Nora

"Really nice brush good quality not to heavy" - Mrs M Hindle

"The brush is great, really high quality! It took some time to ship to the US, but it was definitely worth the wait." - Mariya

"I have been using this brush for a little more than a week and it has made such a huge difference! My hair feels healthier, softer, smoother, and overall more beautiful. I do not use shampoo or conditioner (haven't for years) and now with this brush I don't see why I ever would need to. The one thing I would change is to make the handle more comfortable. But I wanted wood handle with boars bristle and this is the very best option I could find on etsy. Thank you so much!! I would definitely recommend this brush to a friend." - Kylie

"took me awhile to figure out but it worked fantastic" - Heather

"really lovely product and beautifully packaged!" - Jazz

"Perfect oil. Has really soothed my scalp" - Morgane Ansquer

"Lovely brush! Excellent seller. Would definitely recommend." - Morgane Ansquer

"The brush is beautiful. I have never used boar bristle before so not sure what to expect but the first brushing was very pleasant, it's softer on the hair. I look forward to using this brush daily!" - Maya

"I really love this brush and the wooden handle feels so lovely to hold I have medium thickness hair and once sectioned it goes through hair nice and feels so nice on scalp Would recommend" - Weeping Willow

"Carefully packed and beautifully made." - Elodie

"Carefully packed and beautifully made." - Elodie

"Packaging was very sustainable and I appreciated this - no plastic! Also, the hairbrush works great so thank you :)" - Kaitlyn

"The brush is well made and for a vegan version of boar bristles, I am happy." - Karina

"I'm really happy with the paddle brush. I've found that my hair isn't snagging or snapping with this. So glad I made the change to wooden brushes." - Karina

"This arrived beautifully packaged with it's own little fabric bag and looked as gorgeous as the photos. They are crafted with such care. I will purchasing again! Thank you so much." - Jill

"Beautiful products and very responsive!" - Xiangjun

"Beautiful products and very responsive!" - Xiangjun

"Beautiful products and very responsive!" - Xiangjun

"The most secure hair fork I have ever owned. My job is a very active outdoors role and this fork withstands it all. I wasn't certain about the colour of the teak wood when ordering, but after using it I'm really happy with how it looks against my dark hair. Victoria was also really helpful and prompt with her answers which is much appreciated." - LAB

"Gorgeous wooden hairbrush with widely spaced teeth. Exactly what I wanted to brush my hair whilst reducing breakages. Would definitely buy again." - LAB

"Everything I've purchased here has been topnotch. The finishing is smooth and lux, the photos represent the products well. Just be aware to leave at least a month for shipping to the US." - CeruleanIris

"Beautiful hair fork, it arrived in a lovely box and it's so sturdy and smooth. Thank you so much " - Celesté

"A lovely brush, which was packaged thoughtfully and received very quickly. Thank you." - Nick and Vy

"Ever since I got it, this pin has become my favourite hair accessory. It's very well made and solid, it holds my long and heavy hair in place, and on top of that it's absolutely beautiful!" - Justyna

"This is literally the best brush I've owned. The quality is superb. I'll be a repeat customer." - Stacey

"Great brush for long hair! I brush my hair more often now!
I will definitely purchase again from Saya Designs!" - Nicole

"Super fast shipping and the hair brush has done wonders to my hair! I wanted to change to a more natural brush for a long time and wish I would've done it sooner!" - Nicole

"Love how this helps pull a look together and makes me look a tad more stylish as it's a beautiful hair accessory. It holds beautifully in my hair (very thick, straight)" - umajmishra

"Had to return because my hair was too thick but exchanged for another item. Seller was absolutely brilliant and helped me to find a product more suited to my hair. Beautifully made. Would definitely by from the shop again" - Bonnie

"Genial!!!, me acaba de llegar, algo tarde eso si, pero razonable en la situación actual de pandemia." - Isabel Gádor

"Absolutely lovely! I bought this as a way to keep my hair up without giving me a headache like hair ties do, and it works! It's well made, very solid and robust, with a beautiful finish. The box and the bag it comes in are lovely too! I'd definitely buy from this shop again :)" - ChloeB1989

"Only wish I jumped on this sooner, love it!" - RissaFace

"Lovely hair fork; great for a "messy" up do." - jennifergarden77

"Item as described, delivered promptly." - Mark

"They produce beautiful hair pins out of high quality wood. This fork is much better for someone with thick, long, and wavy hair. The single pin really struggles to keep mine up but this one does it with ease." - Derek

"I ADORE this brush. I have long, fine hair that tangles instantly and this brush not only gently untangles but makes it smooth and non frizzy. So pretty too! Perfect!" - Ruth

"Beautiful product, my friend absolutely loved it!" - Jessica

"It's beautiful and holds my hair up very well! It requires less skill than my other hair sticks. It also looks exactly as expected, with beautiful packaging, too and an extremely considerate and helpful customer service!" - Rebecca

"Ive bought these for a Xmas present so I haven had feedback. Thry feel lovely very tactile. I love the colour" - Hazel

"Having used many hair oils on the market, it's been a relief to find one that feels like it's genuinely making a difference to your hair. I have used the daily ritual oil, most days, for a a few months now and I can really feel and see a difference. After years of colouring and using a lot of heat on my hair, this thick nourishing oil is great for hair that needs some serious TLC. Use on wet hair or dry and even after styling for a nice hold. Added bonus is that it smells dreamy too! Love it!" - Imogen

"I am so happy with my hair oil - the aroma's - the texture - the way it really works! I have long naturally grey hair that feels revived when I use the oil. I don't seem to loose as much hair as I did before I used it because it is less tangled and because I'm using the S A Y A wooden palm comb instead of a brush these days. The little comb easily tucks into a pocket or bag and glides through long hair better than a brush!" - Janine

"I have really loved using my hair oil , I have curly hair and it works wonderfully In adding some glossiness to my hair, the whole ritual of using it, making the time for myself and giving myself something that feels like a joy is also part of why i love it. The blend of essential oils smells beautiful and is really calming so I have also enjoyed using it on my skin and to relax, it's perfect for so many reasons." - Bryony

"Apart from the incredible scent which lingers for longer than any other hair treatment I've used recently, the Saya hair oil is so gentle and nourishing. It's now part of my hair ritual. I've switched my conditioner out and use this instead. I hope you're working on a shampoo to go with, soon." - Heloise

"The hair oil smells amazing and gives my hair the TLC it needs to bring it back to life. New mums often suffer from thinning hair and having had my baby this year, the oil has helped to give my fragile hair the nourishment it needs. It does not make hair greasy like other oils can do. It does the job but is still easy to rinse out. I also like how versatile it is! I would whole heartedly recommend. If you have never considered using hair oil, I would recommend trying this one." - Liv

"I LOVE the oil. It's had a drastic improvement on my hair's nourishment already. As it's a heavier oil, it's perfect for my hair since it's very kinky, frizzy and thick. It needs an oil that can penetrate that coil, soak into the roots, and last. My hair is looking shinier and healthier. Not to mention the smell is amazing!" - Ruby

"Applied it after conditioner as a leave in treatment at every wash. 4 -5 drops applied mostly to the ends of my hair. Hair was shiny and light and curls looked healthy. Really loved it, first hair oil i've used that hasn't made my hair really greasy" - Lucy

"I'm very new to hair oils but am loving it. I never got on well with hair 'products' because they either made my hair feel greasy or crispy. I also don't tend to spend very much time on getting ready, looking after myself so I like the idea of having something easy and non-faffy to use. It's also great because I have VERY thick hair and this helps to make it less mushroomy and more manageable. I like that it can be used daily as a kind of ritual and I love that all the products are entirely natural. I have a very sensitive nose so I can't stand strongly perfumed things or synthetic smells." - Olivia

"I have a dry and flaky scalp, dry ends, so I tried the Soothing Scalp Oil with a 1% blend as it's better for sensitive skins. I loved the smell and texture, I only ever used a very small amount in case it was too heavy on my hair. It felt nourishing, so I didn't have to use it daily so more of a special weekly treatment." - Izzy

"On two occasions I used 4 drops onto my wet hair. From the middle of the hair downwards to the ends. This worked really well, when the hair had dried naturally, the hair wasn't at all oily. The hair seemed soft, clean and shiny. Since my hair is so dry at the ends, I tried first of all putting 4 drops and rubbing it through the ends. This made my hair really greasy. The second time I tried it, I used 2 drops and rubbed it into the ends of my dry hair. This time the hair seemed to absorb it in well." - Heather

"I loved the smells.... I have used a bit in my baths and used it quite a bit on my scars when I massage them." - Frankie

"I used it after every-time i washed my hair, so most days but less so as working from home so washing hair maybe every other day. Would towel dry hair and then rub the oil into my hands and then would sort of scrunch it through the hair and twiddle the hair through my fingers. I really love the oil, it smells so natural and clean. lovely texture. I did over do it one day and my hair looked quite greasy but this was totally my fault, as well as this my hair is so dry it absorbed it and was left much more smooth which was really great!. Love the packaging and design, it is something I have at the front of my shelf as it looks so lovely." - Alex

"Beautifully crafted and the ethical sourcing is a plus. The shipping to the US was a little long, but it is a pandemic so it is to be expected. Takes some time to get good at using it, but it can hold up my extra thick hair." - Derek

"this is quite simply a beautiful object, in the best sense. the craftmenship and care is clear, and it's a real treasure to have - especially as a practical but beautiful hair tool that is elegant and kind to my hair too!" - Kezia

"Very well made. Looks great." - Liv

"Beautifully made, perfectly smooth and packed nicely, will certainly keep an eye on this shop!" - Annalisa

"Stunning and well made - thank you!" - Hannah

"Just super beautiful. Excellent craftwork. Beautiful packaging too!" - Hannah

"Nice size... I like that my fingers fit between the spokes." - Carol

"Bought as a gift for a friend, comes in a lovely box and bag. Super fast delivery, thank you." - Sala

"Perfect, am wearing them since I bought them, just what I needed. Lovely packaging, and super fast delivery. Thank you." - Sala

"really nice quality and very useful" - Julia

"Really great quality item. Love it" - Julia

"Arrived quickly, good quality. I wear them for work and they hold my mid-length hair securely over busy 8 hour shifts" - sineadofarrell001

"I got the mini pandans hairsticks and it's such a delightful purchase! Well made and well packaged - I love and appreciate all the attention to detail that has gone into producing and presenting the hair sticks in its final box. Thank you to the team for producing such high quality handcraft!" - Esther

"Beautiful and just what I wanted, thank you!" - Aspen

"Very pretty hairpiece. It feels and looks great. I can't wait to get another one." - Jilly

"Beautifully well made, I use it everyday to put up my hair and it helps me look put together. I have smooth thick textured hair (length is a couple of inches past my collar bone) that can be a pain to use hair accessories because it always ends up slipping out- with this hair stick, it's been a breeze. (I usually just use one stick at a time.) Thank you." - Meyon

"It's a beautiful hair comb. I have thick long hair and it holds my hair securely." - Judith

"no rough edges, even between the comb tines, and the staining is uniquely two-toned. beautiful!" - Mani

"Beautiful product. Poor communication when I wanted to return for a different style. Ended up just getting a refund. Shame as they are gorgeous." - Alexia

"Absolutely love it, have had so many comments. I have thick curly hair, works a treat!" - Hayley

"Lovely quality, great item and well packed" - Hayley

"It's beautiful, simple and worth the wait. When I bought mine they were out of the particular wood I ordered but the seller was super helpful and kept me in the loop regarding getting my hair fork. I'll probably be ordering from the shop again." - Mary

"This comb is simply breathtaking. It's made of the prettiest chocolate brown wood that's been sanded smooth-as-silk ~ and even though I have fine hair ~ it manages to comb through perfectly. I love it, thank you!" - Queezle

"I love my hair sticks! This one is perfect for my medium/long hair " - Sonia

"After taking almost 3 months to arrive I am so happy with the product. The craftsmanship is so beautiful and the packaging of each piece with it's own bag to store it safely it was all worth it.
Thanks to Victoria for beimg so nice and making sure that everything arrived safely" - Emanon

"After taking almost 3 months to arrive I am so happy with the product. The craftsmanship is so beautiful and the packaging of each piece with it's own bag to store it safely it was all worth it.
Thanks to Victoria for beimg so nice and making sure that everything arrived safely" - Emanon

"Unfortunately it isn't for me, I'm bald :(
It's a gift, so can't make a review based on functionality other than it feels solid!


Packaging is super nice too, quick delivery, with a sturdy envelope!" - Wil

"Très bel article, par contre à éviter si on a les cheveux fins, c'est trop massif et glisse facilement" - Roxane

"Again I absolutely love this hair stick! I have very slippery long hair which means I've had to experiment with styles a bit more to make sure my hair grabs the stick but it's totally not a big issue and I'm excited to try out new styles. A huge thank you to Vic for being so easy to deal with when I had queries about my order, she is a superstar." - Pippa

"Absolutely love this hair fork! Due to global delivery delays my delivery did take considerably longer than expected but that was absolutely not the fault of Vic and her team. I contacted Vic on a number of occasions to ask about my delivery and she was always prompt, helpful and kind. I will definitely be recommending Saya Designs!" - Pippa

"Bigger than I expected, but perfect balance and so comfortable in your hand. Gorgeous grain to the wood." - Cyrilla

"So gorgeous! Great quality. A real work of art." - Cyrilla

"Lovely, lovely piece! The presentation is also delightful. I got so excited, I immediately put it in my hair. I'll be ordering more." - Jhenelle

"This review is actually for the rosewood Kamboja hair comb, not the teak.


Victoria's customer service is fabulous. She responds quickly and her communications are warm and friendly.


I received the comb today. It was packaged securely in a gift box and included a handwritten note and a lovely cloth pouch to store the comb in.


The grain is gorgeous and the craftsmanship is fabulous. The wood is perfectly smooth and polished.


I have long baby fine hair, but a lot of it. I'm still playing with the comb to see if it will work for me long term. The horizontal "spine" of the comb is very thick, which makes the piece quite heavy. It's also what makes the comb so attractive when it's in an updo. I've got it in a French twist right now, and it seems quite secure. The trick is getting enough tension in the twist." - Judie

"I absolutely love the banana leaf hair stick it works really well in my shoulder length fine hair . This is such great value and a great ethos behind the brand. In these crazy times it's nice to have simple but beautiful things that are useful and we can use daily." - sarahryoung1

"Really beautiful product, love it! Thank you for all your help" - Kate

"Really love quality, nice aesthetic and works really well. Fab!" - Sarah

"High quality item and ethical too, looked great and my wife was very happy, thanks so much!" - wardinho

"This hair fork is absolutely beautiful . Arrived quickly and beautifully presented in its own box. Looks lovely in my hair." - sarahryoung1

"I've always thought I was destined not to wear my hair in a bun all day due to the headaches I always got by midday, so this Moon Flower has been a revelation! Not only is it easy to use, stylish and beautifully made, it also comes in a gorgeous pouch to store it in when not in use - which for me is only overnight as I'm headache free all day! I fancy trying some of the other designs in the near future. LLove the eco value of the shop, too." - Hemmie

"Beautiful packaging, the hair pin is a beautiful quality of wood. I am so excited to wear it!" - Inactive Etsy Member

"Very beautiful hair slide - I just can't stop wearing it and admiring my hair! Lovely to look at, easy to use and arrived super quick in perfect condition. Will be back for more!


Thanks" - Jennifer Ann

"Gorgeous piece, love using it for work as I don't get headaches having my hair up all day like I would using a standard bobble, thank you to saya designs" - Georgina Pratt

"Works so well in my hair. Carved so well, tactile and lovely to touch and use." - manu

"Beautiful item, so tactile and yummy! Works in my hair brilliantly." - manu

"Nice colour thank you very much." - Claire

"Beautifully made, I love the mission that is behind SAYA design. Will be shopping here in the future." - Mercedes

"Ce peigne est parfait ! Je l'ai commandé pour ma petite sœur et moi; nous avons toutes les deux les cheveux bouclés mais d'une texture très différente et il nous laisse à toutes deux de très beaux cheveux, il ne casse pas les boucles. J'ai aussi l'impression que mes cheveux poussent plus vite depuis que je masse ma tête matin et soir avec, c'est très agréable, les piques sont doux. Le design du peigne est magnifique aussi et unique.
Commande conforme à ce qui est annoncé.
Je recommande à 1000% <3" - Apolline

"Lovely pieces to add to an ever growing collection from a favorite shop, everything arrived quickly & safely/sweetly packaged. Will be back, hopefully sooner than later. Thank you, again, Victoria!" - RissaFace

"Lovely pieces to add to an ever growing collection from a favorite shop, everything arrived quickly & safely/sweetly packaged. Will be back, hopefully sooner than later. Thank you, again, Victoria!" - RissaFace

"Very well made, and absolutely beautiful. I enjoy it so much!!" - Meghan

"Bought as a gift. Very well received.
Beautiful quality item.
Very fast despatch, arrived sooner than anticipated.
Thank you." - Ruth Baczynski

"So sensual and easy to manipulate...so happy with this purchase...thank you for this creation" - Dawn Perkins

"I love love love these hair sticks. Beautiful craftsman ship and customer service. I will definitely be back to buy other varieties of hair accessories." - Tania

"absolutely gorgeous piece, my sister in law loved it as a christmas present. the packaging was also very very nicely made. thank you !" - Rita

"I was given a different set of hair sticks by Saya Designs for Christmas and loved them so much I brought these! Wonderful product, I have very long very thick hair, I roll in into a bun and pop in my sticks. It holds my hair perfectly and stops me getting headaches (long hair girls you know this problem!) I love these for a half up hairstyle particularly as they are slightly shorter than my other set. Thank you Saya!" - C

"this was a gift for my 20 yearold granddaughter who has long red hair. she lives out of state so i have not seen it but she loves it and uses it all the time" - Pamela

"Excellent quality, would definitely recommend!" - Tomas

"Finally received my hair stick. Seems sturdy. Very lovely thank you. It came with it's own bag as well." - Maranda

"Great purchase - love using these hair sticks" - Emma

"Wonderful quality, it carries my heavy hair all day! I've been told it looks like an ancient claw, or a crown.
Fast shipping and optimum eco-friendly packaging.


Thank you!" - Elo

"SUPER fast delivery, wonderfully packaged in a lovely box and cotton sleeve. The hair stick itself is absolutely beautiful. Very light considering the length and glides through the hair smoothly. This is definitely one of my fave hair sticks ♡" - Tamsin

"I am absolutely in love with this. It's gorgeous! Exactly as pictured." - eclecticneedle

"Gorgeous hair comb! I have tons of hair and it's very difficult to find a hair accessory that's beautiful and also works. The comb it's so beautiful, so elegant and so we'll made I like to wear it all the time. Service was last very fast." - evyzsantiago

"As described, very nice, fast shipping." - Silje

"As mentioned, I just love the wood and the attention given to details of the mini palm hair sticks as well as the fabric pouch that will keep this artwork safe. A lot of thought and love went into the creation of this piece and knowing that makes it so much more special to wear. The wood material is honored as well as the wearer.
Thank you for very fast shipping as well." - LaughingFairyHeart

"A stunning hair slide and even easy to use with dreads. I love the wood and the attention given to details of the hair slide as well as the fabric pouch that will keep this artwork safe. A lot of thought and love went into the creation of this piece and knowing that makes it so much more special to wear. The wood material is honored as well as the wearer.
Right now it is my favorite hair accessory. Thank you for very fast shipping as well." - LaughingFairyHeart

"I want all the hair sticks from this shop!" - Xiangjun

"Love them. High quality." - Xiangjun

"I LOVE IT! <3
simple yet elegant and functional, also love the strong concept that is behind your work :)" - chiarinadalle

"So beautiful! It works wonderfully in my hair." - Laura

"So pretty. I love that it's reclaimed wood." - Jessica

"Thank you for fast shipping. I absolutely love these stunning hair sticks. Receive lots of compliments wearing them." - LaughingFairyHeart

"Hair slide is great and stays in well." - KittyBlueVintage

"I love the packaging and the quality of the piece is very high! It is a gift so maybe later I can add a image of it in use! Thank you very much!" - archerlatrell

"I love my beautiful hair piece, it came super quickly and was beautifully packaged, it's been really useful already!" - Eleanor

"Awesome! Please make more hair accessories!❤️" - Nancy

"Purchased a set for myself and a set for my friend, I love them as much as the regular double pandans and she enjoyed being gifted them, especially since it was such an unexpected gift idea. The designs offered by this shop keep me coming back & I'll do just that, hopefully soon :]" - RissaFace

"My Banana Leaf arrived in an all paper package with handwritten holiday wishes! The pin was nicely wrapped and is very beautiful.
It is exciting to be able to contribute to such an initiative and to participate in the reforestation of endangered tree species!


Thank you and continue to persevere in your cause!" - nmgrin

"Beautiful product and flawless customer service." - Helen

"Good quality item and nicely packaged. Delivered promptly too. Thanks" - Jo

"Beautiful item, and a very helpful and friendly seller. Packaging was also great - no plastic! Thank you." - Lucy

"After quite the saga - I ordered this in June and it just arrived in Canada in the first week of September - I received these lovely hair sticks. Awesome craftsmanship and even better service, as Victoria was extremely helpful in trying to figure out where the package ended up. Would definitely purchase again!" - Kienan

"Beautiful, really lightweight, and holds really well." - tigereye08

"Kam schön verpackt in einer kleinen Tasche aus Stoff und einer Pappschachtel. Schöne Verarbeitung, ich habe nichts zu meckern :)" - Maren

"I am very pleased with my purchase." - Verbena

"I am very pleased with my purchase." - Verbena

"I am very pleased with my purchase." - Verbena

"I love the whole idea behind this brand! The double Pandan especially is amazing because they are basically two hair stick in one and look beautiful together as well as separate. Thank you so much for this incredible product!" - Corinna

"Quick delivery, great quality and beautifully packaged! Love it! Will definitely be buying again." - frankiebenbow

"I bought this pair as a gift. Equally well made and smooth. The giftee was delighted." - NewUnicorn

"I love the look and feel of this slide. Incredibly smooth and well made." - NewUnicorn

"Speedy response and sent directly to my friend . She loved it." - anne