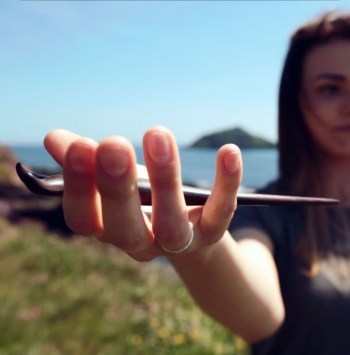 Emily & Danni | Jiminy Magazine
1 // How is 'Jiminy Magazine', 'Turning Heads' for all the right reasons?
Emily: I'm passionate about discovering new brands that are doing good. Swirl in a love of homegrown local food and travel, and that's Jiminy. We exist to give a voice and platform to those that are producing works sustainably.
Danni: Cheers to that! We wanted to create a platform that celebrated the companies who care - instead of just complaining about the ones who don't! I love getting to know the brands who share the same morals as we do. It's also great how we can work together from anywhere in the world!
2 // What do you think is interesting about the change to conscious consumerism and environmental shift that is happening now?
Emily: A few years ago, ask anyone in marketing if they thought that consumers would change their buying habits and stop to actually question the story behind a product, and they would have laughed in your face! The idea of fast, cheap consumerism is fed to us daily in the form of subliminal advertising as well as on the TV, social media and on the radio. It's hard not to see someone holding a cup of coffee in the street and not think about wanting one too! What's interesting is that a shift has started to happen. Through the power of the internet and advertising people are questioning the process behind the products that they buy. Even better, it's also the younger generation asking the questions. This is great for us and the brands we work with, as it shows that consumers are curious and conscious.
Danni: We've still got a long way to go before all generations start asking these important questions. Even though we strive to raise awareness around society's buying habits and our impact on the planet to work towards creating a better future, I still know a lot of people who don't really understand why we are putting so much effort into Jiminy! There are times when I keep the 'eco warrior' inside me round certain characters, (although it kills me a little bit inside) I still have to respect these people's views and decisions and not be too judgemental!
3 // What inspired you to move in this direction?
Emily: When you study and work in fashion styling, you lug around a lot of clothes! I began questioning the production cycle, and when I discovered the figures, wanted to make a change. I began searching for brands to work with that used recycled fabrics and utilised their waste. Funnily enough, Danni was doing the same thing, but with jewellery!
Danni: Yes, my degree in Jewellery & Silversmithing really fueled my passion to create sustainable designs. On top of this though, Emily & myself are both country girls through and through - growing up in the Yorkshire Dales will do that to you! We've been raised going on hikes, wild camping, playing in fields and enjoying the fresh air. So, from a young age, we've always been taught me to appreciate what we've got, not to be greedy and to enjoy the simple things in life.
4 // Where is your favorite place to shop ethically in your city?
Emily: I've fallen head over heels for Recycle Boutique here in Wellington, New Zealand. It's a treasure chest full of goodies, both vintage and second hand. http://www.recycleboutique.co.nz/
Danni: I'll be honest, my city is a little bit behind the times in terms of "green" places to shop for clothes. However, there are many place to grab a locally sourced bite to eat. Rockfish is one of my favourites because they also provide for those of us that are gluten free.
5 // If you had to choose one book to take on a journey, what would it be?
Emily:It has to beWild: An Elemental Journey by Jay Griffiths. It's an extraordinary read that lights a fire in the soul for travel. Her writing is beautiful and descriptions out of this world. It's the one book I carry with me at all times, especially as I have been backpacking!
Danni: That's such a difficult question but one of my absolute favourites is 'Brazilian Adventure' by Peter Fleming. I love exploring, going on adventures and getting off the beaten track so escaping into this book feels like home to me.
6 // Have you had a recent piece of great advice?
Emily: Don't look back, just keep looking forward.
Danni: Give life energy!
7 // Current favorite color?
Emily: Can I choose two? Green and blue! Green for trees and plantlife and the ever changing blue in the ocean.
Danni: Oh we are so similar! Mine has to be green - I'm often told I wear it too much.
8 // Lastly, do you have a favorite S A Y A Hairpin? //
Emily: I love the Double Pandans. They are small enough to pop in my handbag and perfect for whipping up my hair when in a rush!
Danni: The Soka Bud, it was such a treat when I received it in the post.